11 Empowering Lash Stories That Will Make Your Day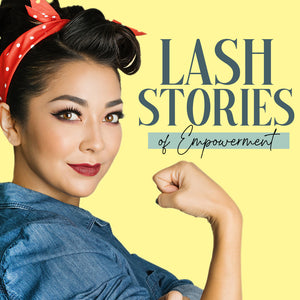 Here at House of Lashes, we focus on empowering our customers, while also empowering the individuals behind the brand. Female-founded and majority operated, we lead by example and hope to encourage others to believe in themselves, too!
We aspire to support your journey through life with lashes as you transform and become whoever you desire to be. Through the ups and downs, the good and the bad, our lashes can be there with you through it all and to truly bring out your most empowered self. 
Our community of lash lovers have some pretty powerful stories of self discovery and recognizing their worth. Read on to hear Lash Stories of empowerment!
When you gain your confidence back... 
"I discovered the style Iconic about 5 years ago and it's changed my life. I have yet to find lashes that fit my eye shape so well while also being able to see my eyeshadow behind them. Also, truly a lifesaver as someone who doesnt always have lashes because of trichotillomania. HOL always gives me a huge confidence boost! My experience with trichotillomania isn't always consistent, but in the past year or so I've been able to channel my trichotillomania on one eye (where I'll have my full or nearly full lashes on one eye and barely any lashes on the other). What's great is that a lot of the House of Lashes styles come in a full (or original) option and a lite pair! There's been a few times where I've worn the lite pair on the eye with full lashes and the original pair on the side where I have barely any lashes - and they end up looking like they have the same amount of fullness! So I feel like I can really customize the lash look based on my needs." - kenziemacbrown
"I have been wearing House of Lashes for a very long time and they are the one product I don't think I would be able to live without. They give me so much confidence every day and I know that they will complement any look that I am trying to achieve. I can rely on them to make my day better each and every day!" - Demie Wamsley 
"I'd finally gotten contacts so I couldn't hide behind my glasses anymore. For my birthday, I'd decided to do a full face of makeup to celebrate. After a long struggle with the lashes, I finally got them on and my confidence shot through the roof. I felt cute and flirty and sassy!" - panini101
"I wear HOL when i just want to feel fabulous on a day off." - miss.kristyyy
"I tell all my friends that wearing HOL is life changing because it is...
A friend of mine was  feeling down about her recent breakup. We told her that wearing lashes would boost her mood! She never used false lashes before, but we convinced her that she would not be disappointed! I gave her a pair to use and that night she applied them herself (no small feat) AND she ended up meeting a nice guy at the party! I know because she was feeling good she exuded confidence and her aura was very attractive. WIN!" - Maddy H 
Wearing HOL to give birth... simply Iconic

"I  wore HOL when giving birth to both my babies. I was able to SLAY honey while screaming from being in pain, crying, and other "beautiful" things that come while giving birth." - mfaimalopeterson
When you finally find what you've been searching for...
"It has been very difficult for me to find eyelashes that fit my eyes due to the fact that I have very small eyes. Before I knew about House of Lashes, I would buy lashes that were either too big or didn't last! The eyelashes that I have bought from House of Lashes have made me feel so confident and beautiful." - Jasmineladia 
When you can own who you are... 
" I did my sister's wedding makeup using HOL's amazing Iconic Lash. As a makeup artist I am nothing without great products. I am a transgender woman and these lashes give me the confidence to be strong and beautiful. Thank you." - lilstarcake 
"House of lashes is my house of love, house of looks, house of fab. I'm at a point in my life where I've found myself wanting to be beautiful. It's taken me years as I'm over 50. Your product is part of that plight. I love the variety and ease of access. My lashes are like my AMEX.. I don't leave home without them. So glad you found me and I found you!" - Yolanda Lawson
"Thank you for creating a quality, beautiful product. As an Occupational Health Nurse (workforce) I wear my lashes like armor. They are exactly what I need to get through the day." - Dlchapman 
"I always loved seeing lashes on people, but never had the confidence to wear them. I have always shopped at Sephora and seeing them in other retail stores exposed me and I was able to gain the confidence to try wearing lashes in 2016. I feel confident and beautiful when I wear your lashes. I am the mom of a 16 month old so I don't have a lot of time and it is so easy to apply your lashes and I make sure that I make time to do it. I feel so confident and beautiful throughout the day. I love looking and taking care of myself even having a mask on. Wearing a mask almost enhances how much more beautiful I can adorn my eyes, so for that I am grateful. I feel like my best self every day! - Marie-Lorraine Cerat
_ _ _ 
Our vision lives in the stories of our amazing community. Lash stories of empowerment, courage, vulnerability, strength, and beauty that radiates from within. 
Our lashes are only as good as they make you feel and we are confident they can work magic in your lives. 
Share your empowering lash stories with us for a chance to be featured on our blog! We'd love to hear how House of Lashes made a difference in your life. 
We look forward to reading your Lash Stories! Email us at
info@houseoflashes.com