3 Quick Tips to Master This Summer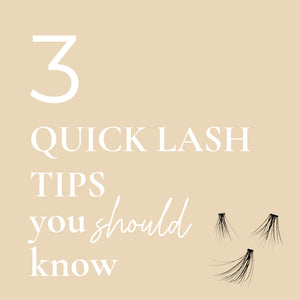 We live for a good beauty tip that saves us time and effort! With the world getting back to normal, we are eager to trade in our sweats for summer dresses and swap our daily moisturizer for a little glam. 

...And did we mention lashes?!

Whether it's a special event or simply reuniting with friends & family, we are sure you'll have many happy occasions to show off your lash skills in the coming months. 

Speaking of skills... It feels like forever since we've put on a full face of makeup, so it might be time to brush up on our makeup skills.

In the midst of the pandemic, our makeup routines shifted dramatically, so much so that in certain cases they no longer existed!

Once our office started working from home, it no longer seemed necessary to wear foundation anymore. Instead we prioritized our skincare regimens and gave our skin a little breathing room, and boy did it feel liberating! 

With this new perspective on beauty, time, and effort, we want to apply that same idea to our current lash rituals. In other words, we want something that makes an impact with minimal effort. Minimal effort meaning we don't want 10 steps to achieve a beautiful done-up glam anymore. 

To help you prepare for Summer, we've rounded up 3 quick lash tips that can elevate any look. And the great thing about all these tips is that they work if you are wearing minimal makeup OR full on glam, red lips and all! 
Tip #1: 'No Liner Needed' Cat Eye 
Focus on the outer thirds of your eyes with a flared style. This will instantly give your eyes the appearance that you are wearing a winged eyeliner. 

A wing can add an instant lift to your face and help elongate your eyes. 

We recommend: 
Siren Flare - $9 
Iconic Lite - $12 
I Mean... - $9 
Tip #2: Contour Your Eyes
Contour your eyes with a rounded style. This helps to create the definition you desire by sculpting out shadows and framing the skin around your eyelids. 

A soft, rounded lash style can achieve this look so well. 

Note: It's important that the density of the lash isn't too dramatic because you don't want it to completely cover the eye space. 

We recommend: 
Boudoir Lite - $12 
Siren - $9 
Serene Lite - $9 
Tip #3: Beauty Defined by YOU 
The only standard of beauty you should be following is your own! Wear what makes you feel confident and happy - that's all that matters. 

For just a touch of lashes, our individual collection is a great alternative to a strip lash band. You can customize your lashes however you see fit! Add a little or add a lot, it's entirely up to you. 

How fun does that sound?? 

We recommend: 
She Doesn't Need Much an HOLxPT Exclusive - $9 


We hope these 3 lash tips help you achieve your lash look in no time. "No makeup makeup" will be trending more than ever this Summer, so go out there and #LashLikeAPro with these tips!