Bottom Falsies: The False Eyelash You Never Knew You Needed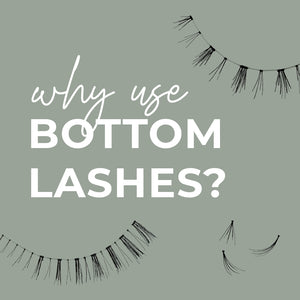 Falsies for bottom lashes? YEP!

Did you know false eyelashes can help create longer, fuller top lashes? 

...And the same applies for lower false eyelashes! 

If your natural bottom lashes are on the shorter side, applying mascara can end up looking clumpy or smudging onto your under eye skin. 

Take the falsies route and you'll wonder why you didn't try them sooner! 

Bottom lashes will open your eyes even more than just top lashes can alone. 
What are my bottom lash options? 
We offer two different styles for bottom lashes to help you achieve larger than life eyes: Darling and Precious 
Darling Lashes
Darling lashes have a fanned out style that will add great length and will reshape your eyes regardless of eye shape! 

These bottom lashes will help outline the shape of your eyes, just as eyeliner does. 


Pro Tip:
Long bottom lashes can pull the entire look together, especially when wearing really dramatic makeup. It creates balance so your eyes don't look top heavy. 


You can glue the entire strip or cut the outer third to just accentuate the outer parts of your eyes - the decision is up to you! 
Precious Lashes
Precious lashes have evenly sectioned pieces that will help enlarge your eyes so they appear more rounded and open. 

If you're going for a doll or doe-eyed look, these lashes are the perfect choice! 


Pro Tip:
Our Le Petit Individual Lashes can also double as bottom lashes. These lashes are already in little groupings so it makes it easy if you just want to fill in some spots on the lower lash line for a more natural approach. 


Plus, some lash wearers find individuals more comfortable since they aren't attached to a lash strip and can be individually applied! 
Bottom lashes are a quick, easy addition to your makeup routine... And since you already have all your tools out, you might as well add them! 

Don't ever forget, your lower lashes need love, too!