Celebrating Black History Month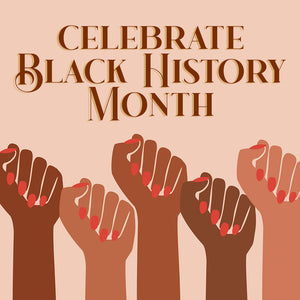 In honor and celebration of Black History Month, we would like to highlight some of our biggest inspirations. Content creators, business owners, musicians, and influencers who have transformed so many different industries deserve our recognition not only for one month, but year round! 
Beauty Brands
Beauty Bakerie - A powerful story of resilience and inspiration, Cashmere Nicole founded Beauty Bakerie in 2011. During a challenging, but successful fight with breast cancer, Cashmere became extremely health conscious and research-driven about the products we put in and on our bodies. The Beauty Bakerie brand is a direct reflection of Cashmere's perseverance and passion for both high quality, healthy ingredients that enhance the beauty in everyone, every day.
Briogeo - A refreshing deviation from a market saturated with products backed by big-name celebrity stylists and deep-pocketed corporations, Briogeo takes it back to basics. Offering a high-performance, hair care collection that is naturally based, Brigeo is performance-driven to provide visible results.
Juvia's Place - Juvia's Place was created to celebrate the rebels, rulers and queens of the African kingdoms of long ago. These leaders and visionaries emulated and honored beauty through their soulful and innovative techniques that the top beauty gurus still use today.
Fenty Beauty - Rihanna was inspired to create Fenty Beauty & Fenty Skin after years of experimenting with the best of the best in beauty—and still seeing a void in the industry for products that performed across all skin types and tones.
Influencers
@sydneyjharper 
We were able to meet and work with this talented beauty during our #HOLxPatrickTa campaign!  
@woodlyelan 
Always creating flawless beauty looks for herself and her clients. 
@sirjohn 
Global artist and activist, most known for his work on Queen B! 
@ellarie 
Beauty, motherhood, entrepreneurship - she can do it all! 
People of Influence
Oprah 
Need we say more?? Oprah has been influencing our lives for as long as we can remember! Check out her podcast "Oprah's Super Soul Conversations" for some daily pep talks and inspo! 
Saweetie
She taught us what it means to be an ICY girl and we are forever thankful. 
Beyonce 
Still trying to figure out how we have the same amount of hours in a day as Beyonce??