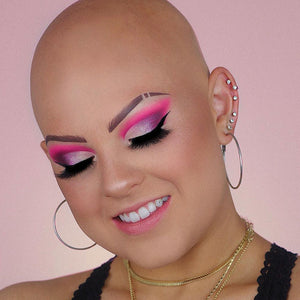 Emmy Loves HOL… and we love her right back!  
How would your life change if you were diagnosed with alopecia?
Most people would probably react negatively to this news, but that has never stopped Emmy from living her life to the fullest! In fact, if you are ever privileged enough to spend some time with her, you'll notice her positive attitude rub off on you just like we did!
Having alopecia universalis has never made Emmy feel like she is missing out on being feminine. If anything, it has helped her achieve her dream of being an artist who can fully express herself. She loves that her bald head differentiates her from the rest of the influencers on social media. 
Alopecia has given her an amazing platform to share her story and inspire others who have it too. As a child, the stares from society used to make her feel self conscience about her condition. Now, she fully embraces who she is and loves using herself as the perfect bare canvas to exhibit her art on. 
(Note: To learn more about Alopecia, check out this article on "What Is Alopecia?".)
"Alopecia doesn't define who you are, YOU do" 
As Emmy applied the finishing touches to her makeup, we were in awe of her talent. Her eyeshadow was immaculately blended, her skin was flawless, and her Stella lashes were the cherry on top of her go to look. 
Emmy shared that our HOL Lash Adhesive is the ONLY lash glue that is able to keep her lashes on and lifted for the entire day. This was music to our ears considering the fact that she does not have her own hair to keep the lashes in the upward position. 
She explained to us that natural lashes act as a "shelf" for your falsies, so if you don't have lashes it's super important that the glue is strong enough to be able to withstand the weight of the lash all day long. She also shared that HOL lash bands are so comfortable to wear that she sometimes forgets that they're there! 
Check out the tips she shared from her makeup routine!
1) Add extra lash adhesive 
Doubling up on glue really helps keep her lashes lifted and secure. She applies a layer of glue on her eyelids where the lashes will be placed. This creates a "shelf" for the falsies to sit on. Next, she applies additional glue to the false eyelash strip and allows it to become tacky for 2 -3 minutes. Emmy then applies the lashes to the space on her eyelids with the glue and then, she is set! Her lashes can last 3 days without falling off when she uses this method.
2) Draw in hair like strokes
Since Emmy has no eyebrows, her painting skills really came through for her in this area. To make her eyebrows look as realistic as possible, she paints tiny hair like strokes using a thin angled brush. She also advises using Anastasia of Beverly Hills Dipbrow to ensure that her eyebrows stay in place all day long. She completes her look with her signature eyebrow slit that gives her pretty makeup an edge.
3) Don't forget sunscreen
We all should be using sunscreen every single day, but for Emmy, this is an especially crucial step in her skincare routine since she has alopecia. Since she has no hair on her body, she is prone to getting sunburnt. She has to remember to wear sunscreen all over her body, and even wear a hat for long days in the sun. If you noticed she's tan, it's because she loves using self tanner! She swears by Loving Tan to give her the most natural golden glow. 
Spending the day with Emmy was effortless, and we loved hearing her story, learning more about Alopecia, and talking about all things makeup related.
Emmy embodies the spirit of who we want our HOL community to be.
She cares about those around her, wants to inspire others to achieve their goals, and spreads love and positivity wherever she goes. But most of all, she is unapologetically herself and is confident through and through. 
To learn more about Emmy's incredible story, check out the article "Emmy: Feeling Beautiful with Alopecia"!