HOL-iday Gifting - Just Add a Bow!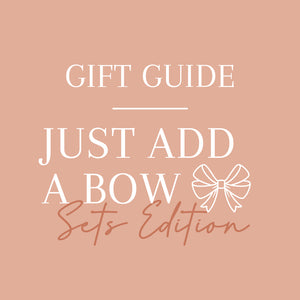 Our wish for you and ourselves this holiday season, is to be more present. Oh what a gift that would be right? To be truly present in the moment and free to enjoy all the special moments that happen when we are surrounded by loved ones. Gifting fatigue is something we all experience in some way, shape or form during this time. All the gifts we've bought start blurring together, we can't seem to remember who we've already shopped for and honestly we can't wait to reach the end of our shopping list! 
One way WE can help manage that, is making the gifting process quick and easy. We've compiled a list of our most amazing gift sets to make everyone's lives easier. The best part is, we have something for everyone and every level of lash wearer. 
All you need to do is add a bow and we'll handle the rest! 
For the maximalist in your life 
13 lashes, Applicator, Scissors and tools- oh my!! The most spectacular gift set that satisfies every lashing need for the year to come. 
For the "Always up for anything" friend
Line, Lash and Dash Set - $44.80
Complete with our most eco conscious styles, The Secret Collection. All 4 lashes were thoughtfully named to inspire you to lead your day with positive intentions. 
For the practical/ realists in your life 
Whether it's your first time applying lashes or your hundredth time- this set will be useful. 
For that person we all aspire to be 
4 of our best selling styles and award winning lash glue is a golden choice for gifting the most put together person you know. 
For the one who's always traveling
TSA approved cosmetic bag with the 3 styles from our Siren Collection. All lashes are great for work or play making them the perfect carry on companion!