HOL Stocking Stuffers - Gifts They'll Love Under $25!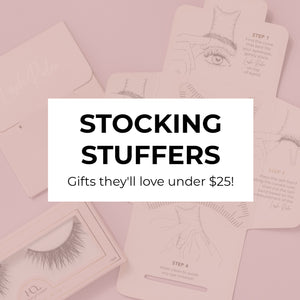 Fill your loved one's stockings with these lash essentials! The best part is that every item on this list is $25 and under. 

We know holiday shopping gets expensive, but it doesn't have to cost a lot to mean a lot. This gift guide will make it easy as can be to gift smart and savvy this Holiday Season! 
Keep them organized with Lash Storage. It also helps keep lashes clean and more easily accessible for future use!  
-Lash Story Visionary - just $14 
-Lash Story Wanderlust - just $10
Stay safe out there fam! With health at the forefront, don't forget to mask up to keep yourself and others safe and healthy. 
-Heavenly Cloud Face Mask - just $9 
Pin it! A fun accessory to add to hats, bags, jackets, and everything in between. 
-HOL Double Lash Pins - just $7
Curl like a Pro! A tool that is always appreciated for every level of lash wearer. 
-Lash Aid Curler - just $18 
Small but mighty, this tool helps measure the length of your eye shape to then trim your lash band accordingly. A game changer to say the least! 
-Lash Ruler - just $5 
Say bye to clumps! Comb through any clumps or unruly lashes with ease. 
-Mini Flawless Precision Lash Comb - just $8 
Combine lining and lashing into one easy step! 
-Lash and Dash Adhesive Eyeliner (Available in Satin Black and Crystal Clear) - just $12 
The best kind of surprise. Mystery grab bags are sure to be a winner with 5 amazing styles for a discounted price! There's a style for everyone to love. 
-Wake up and Lash Mystery Grab Bag - just $25 
-Give us the Glam Mystery Grab Bag - just $25