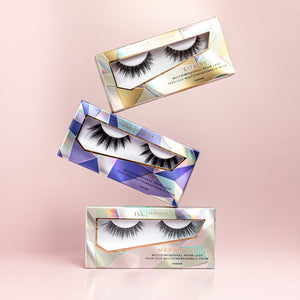 House of Lashes x Sephora Collection Multidimensional Prism Fall 2020
In the world of holistic medicine, it is believed that crystals promote healing properties and promote positive energy. Whether or not you believe in this practice, it ultimately depends on the eye of the beholder. If you believe the crystal will heal you and guide you through life's challenges, it will. 
Our House of Lashes x Sephora Collection Multidimensional Prism Lashes is a whimsical, dreamy selection of three lashes that will remind you of your inner light and ability to shine. Each lash represents the abundant power that crystals attract with bringing new opportunities your way. We designed this collection to align with your needs to move confidently in the direction of your dreams.
Citrine

Our exclusive Citrine Lashes will help encourage your self expression and creativity. With medium density, this lash will help create beautiful soft glam volume for your next makeup look. With an eye opening rounded shape these lashes are handcrafted to perfection with 100% synthetic fibers. Release what no longer serves you and embrace the opportunities that await in Citrine Lashes.
Lapis

Be a symbol of wisdom and truth in our exclusive Lapis Lashes. These double layered, flared lashes will add dramatic volume and fullness to your next makeup look. This lash is composed of 100% synthetic, multi-dimensional fibers and handcrafted to perfection.  Embody your royalty in this sought after lash style.
Moonstone

Allow your inner growth and strength to shine through in our exclusive Moonstone lashes. This light, naturally flared style is made of premium 100% synthetic fibers. The multidimensional fibers make them soft to the touch and ideal for everyday wear. Let your intuition guide you and lead you to success in our Moonstone lashes.
House of Lashes x Sephora Collection Multidimensional Prism Spring 2020 
Aquamarine
Known for eternal youth and happiness, our exclusive Aquamarine lashes will give you an abundance of courage as you journey through life. This airy lash is composed of premium 100% synthetic, multi-dimensional fibers that are handcrafted to perfection with a thin flexible band. Speak your truth and find your inner light in our Aquamarine lashes.
Rose Quartz
Our exclusive Rose Quartz lashes will fill your heart with warmth and attract true love in your life. This 100% synthetic, multi-dimensional lash offers a touch of subtle glamour with its medium density layers. Allow our Rose Quartz lashes to amplify the love you deserve.
Amethyst
Embrace clarity and confidence with our exclusive Amethyst lashes. This 100% synthetic, triple layered lash offers full-density, dimensional volume that is perfect for any glamorous look. Let our Amethyst lashes help you make a statement with major life decisions.
These three lashes are for someone who is mindful, ambitious, and passionate about finding their place in the world. Whether it be through yoga or cycling, they take care of themselves by staying active, eating healthy foods, and finding their inner peace through meditation. 
But make no mistake, they will indulge in their cravings from time to time, and have a wild night out with friends. It's important to them to stay up to date with current events, and they do their best to make the world a better place. This person is a fearless adventurer and is constantly searching for ways to feed their soul through books, writing, and traveling. They lead a life filled with love, support for their community, and a sense of purpose.
We hope this collection gives you the courage to live your life to the fullest and brings out the light inside of you!