House of Lashes is Thankful for...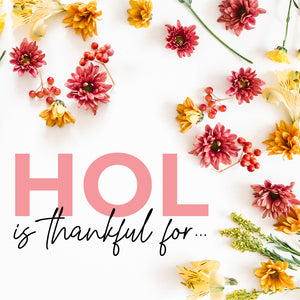 It seems like this year has done everything in its power to make it more difficult on us. Each passing month we asked ourselves, 'can we just catch a break??' 
With every challenge we faced this year, it made us realize the importance of the good things that still remain. It's easy to pick apart the bad, but in trying times, let's try our hardest to remember the things that we are most thankful for!
All it takes is 5 minutes each day to either think it, say it out loud, or write it down...we are referring to positive affirmations of course! Starting or ending your day with simple reminders of these things has actually been proven to help boost your mood and lift your spirits. 
Regardless of if you're someone that believes in affirmations or not, we could all use more positivity throughout our day!
We asked some of our team members what they are most thankful for in 2020. Keep reading to find out what they are… PLUS, what HOL product they are currently loving! 
Stevi 
Graphic Designer 
This year I am MOST thankful for my spectacular job and my health. 2020 has been a challenge for everyone worldwide - I feel truly blessed that I'm still healthy and was able to keep my new position with HOL.
I am currently loving my Precious Gem Lash Case in blushing pearl! It keeps my favorite lashes safe and sound. PLUS, the storage compartment keeps my mini glues in one spot. 
Naomi 
Brand Marketing Lead 
I am most grateful for my health and my loved ones. I was able to quarantine with my best friend, my fiancé, and our new puppy, Texas. She has brought such a fresh new energy to our lives, and has brought our family and friends closer together. 
I am also beyond grateful for my job and to work with a strong and supportive team. During these hard times, having a leadership team that truly cares about you and your wellbeing has made all the difference in how I view this year. 
Amidst all the chaos and instability we have all experienced, there is still so much to be grateful for. From the wise words of my favorite headmaster and wizard, Albus Dumbledore, "Happiness can be found even in the darkest of times, if one only remembers to turn on the light." 
My favorite product is the HOL Clear Lash Adhesive. It is the OG of lash glues for a reason! It's the only lash adhesive I trust to keep my lashes on all day long. I am also allergic to most glues on the market, and this is the only one that does not leave my eyelids red and puffy.
Breana 
Operations Manager 
As basic as this may be, I am truly thankful for my support system. This year has been one of the hardest for everyone and it required all of us needing to unite (safely) to get through it. 
My support system includes my family, friends, coworkers and advisors that have all been there to make each day feel normal & yet feel different even in the midst of all the crises this year brought with it. I am sure all of us thought staying/working at home was going to be the dream, but it truly challenged my mental health (something I am sure all of you experienced as well) and I called on my family and friends to really support me through it. 
I am currently obsessed with the new style from the HOLxPatrickTa collab, I mean... It has been giving me all the feels and sass in every makeup look! 
Your support system plays a huge role in your mental health and overall happiness in the scariest of times. Although 2020 was the roller coaster no one asked for, we are happy to see our HOL employees leaning on their friends and family for support.
So tell us... what are you most thankful for this year?