Introducing Live Consultations: Lash Experts at Your Service!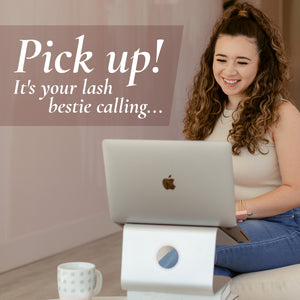 Our dream of connecting with our lash community has come true! 
We are now offering 15 minute consultations to meet virtually with an HOL certified Lash Expert, where you'll receive one-on-one guidance and personalized lash assistance in the comfort of your own home! 
Here's What to Expect with Live Consultations... 
Lash Education 
Step-by-Step Instructions 
Ways to Care for Your Lashes 
Find out which appointment is best for you! 
Lash Education
Discover your eye shape and what lashes will work best for you, learn the difference between our collections, or find the perfect lash for an upcoming occasion! 
Whatever lash questions you might have, we will make sure they are answered. 
Step-by-Step Instructions
Meet with a knowledgeable lash expert and receive step-by-step instructions on wearing false lashes. We can help with how to apply, how to remove, and we'll even share some industry pro tips with you! 
TLC 
Give your lashes the tender loving care they deserve! 
Learn how to properly clean and store your lashes to prolong their longevity and wear time. Think of it as a session on giving your lashes the ultimate spa treatment! 
All consultations are 15 minutes and must be booked one session at a time. Feel free to try them all to get the full lash experience with us. 
We are so excited to meet, help, and lash with you, but most importantly, help you feel empowered in your lash journey! 
Book your appointment today: HERE