Lash Life to the Fullest!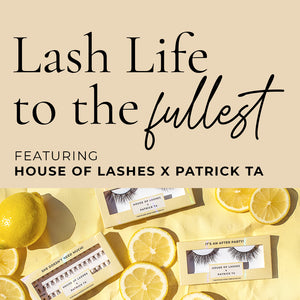 The much anticipated reopening of the world is near! 

The weddings, birthday parties, brunches, graduations, proms, concerts….(you get the idea) are finally in sight and it feels sooo good to have a sense of normalcy within reach. 

To recognize this monumental moment in our history, while still being safe and protecting those around us, we want to help you celebrate! 

But, before we do, let's first reconnect to the importance of continuing to support our community, and one another, during the coming months...
Why Community Matters 
Community is at our core. In fact, it's one of our core values here at House of Lashes. 

Not only do we strive to support our community (both local and global), we also take pride in being a part of such a diverse, beautiful, enthusiastic group of inspirational leaders. And we look forward to reuniting with our larger family as the world reopens! 

Community events bring us together and allow the opportunity to connect on a deeper level with our colleagues, friends and family. We have waited a very long time to see our loved ones in person... And we are beyond excited to help you prepare for that special reunion! 
Lash Like You Mean It 
This past year taught us not to take anything for granted. With this new mindset, every time we step out of our home, we are LASHING like we mean it! Big, bold, dramatic, all eyes on me lashes. 

Why? Because getting ready meant more to us than we ever really realized before. 

Applying a lash has the power to take your confidence from 0 to 100, instantly. For many of us, we didn't leave the house very often and every event was either postponed or cancelled. This caused our daily beauty routines to drastically change in 2020. 

However that change impacted you, having confidence and feeling beautiful will always be something we keep in our beauty bag. 

So what event do you have coming up?

A wedding, graduation, birthday party or brunch with the girls?? 

We've got the perfect recommendations for your first occasion back! 
Try: 
It's an AfterParty 
Shape: Rounded 
$9 
The lash that delivers length, volume, and like the name says, it brings the PARTY! Just what we need. 

Our exclusive #HOLxPatrickTa style is handcrafted with vegan and cruelty free fibers, and the best part being it's reusable up to 15 times with proper care and love… So all of your upcoming events are covered in the lash department! 
It's a Look 
Shape: Flared 
$9 
Make a fierce statement in It's a Look! 

This style elongates your eye shape pulling the look back and side swept for a more sultry appeal. 

The great thing about this style is that the fibers are so comfortable it can be worn for many hours and you will forget you even have them on! Start in the morning and wear them well into the night. 
Tears of Joy 
With the excitement of seeing friends and family there might be some tears involved! 
Don't forget our HOL X PatrickTa Lash Adhesive 
$8 
Waterproof, long lasting, Vegan and Cruelty Free. 

These exclusive collaboration styles won't be around for much longer, so stock up while you still can! Any purchase from our HOLxPatrickTa Collection will also receive a FREE makeup bag with your order. 
_ _ _ 
We wish you a warm welcome back... And as always, you can count on House of Lashes to be there with you! 

Stay Safe! 
XX