Sephora is Now at Kohl's!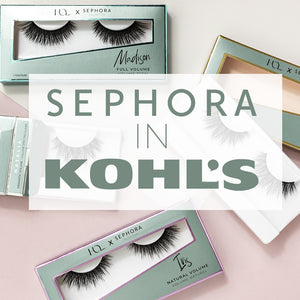 Sephora and Kohl's have debuted their retail partnership to expand their reach and accessibility of prestige beauty brands! 

Customers will now be able to explore a unique, immersive shopping experience by combining fashion and beauty together. 

Assortment will be available on kohls.com starting early August and will also be rolled out into 200 stores. 

House of Lashes is honored to be one of the 125 coveted beauty brands to take part in this merge! Some of our beauty neighbors will include Fenty Beauty, Fenty Skin, Rare Beauty by Selena Gomez, Milk Makeup, Drunk Elephant, Tatcha, Fresh, and Ole Henriksen, just to name a few!! 

"We're thrilled to bring the depth and diversity of Sephora's brand assortment to Kohl's that will ensure approachable access to prestige beauty. We are also proud to share that 75% of the brands we're offering Kohl's customers are exclusive to Sephora at Kohl's and Sephora. 

All customers who enter Sephora at Kohl's can expect the same experience, and will find the most highly sought-after brands that Sephora clients have come to know and love at our freestanding Sephora locations and Sephora.com." -Artemis Patrick (Sephora's executive vice president and global chief merchandising officer) 

You will now be able to purchase these amazing lash styles in Sephora at Kohl's: 
-Marigold 
-Natalia 
-Iris 
-Madison 


Come see us at Kohl's and celebrate the big debut!

We are so excited to be part of this incredible joint venture and can't wait to see what the future holds with Sephora + Kohl's!