Why We Love Individual Lashes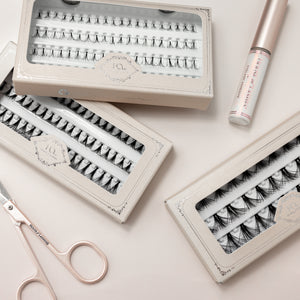 In the land of lashes, Individuals are a great option for multiple reasons. 
Lashes are the finishing touch to your makeup look and whether you went all out glam or very natural, it's important that your lashes match your look. What this means is that your lashes have the power to completely change the final outcome of how your eyes appear. 
If you created an elaborate eyeshadow look, the last thing you want to do is cover it up with a huge lash. Instead, you should opt for something less dense that allows the makeup to be seen. In the case of wanting a natural / barely there kinda vibe, Individuals are a great alternative. 
Customize 
With our wide assortment of lash styles, you may still experience the feeling of being on the  constant search for your perfect lash. Individual false eyelashes can easily solve that problem for you! 
Adding Individual lashes on top of an already existing lash can help you to create the lash design you have been waiting for. If you want more volume in the center, or maybe an elongated flare, you can make it happen! 
Glue the Individuals on the lash when it's not on your eye yet to make it easier. This way you can really get the full picture of how your new design will look and also make it quicker if you need to make any changes. You can always remove the Individuals and just start again. 
Add as many or as few as you like to achieve your desired style! 
Lightly Lashed 
Lash beginners often tell us that they feel strip lashes look too obvious on their eyes and that they feel heavy. Allow our Individual Lashes to erase that misconception for you! 
Individual lashes don't have a full strip band so comfort will always be on your side. You don't have to worry about them weighing down your eyes. In fact, Individual lashes were created to simply enhance your eyes. 
Popping on a few Individual lashes will make you look refreshed and bright-eyed without feeling like you have a lot of product on. Individuals help to fill in any spaces or gaps that your real lashes may have and will give you an effortless look that we all want to achieve. 
Mature Eyes 
As we add more beautiful years to our life, gravity has some plans of their own for our skin. Skin around the eyes is already extremely delicate, and even more so with aging skin. Fine lines and texture can make it difficult to place a full band of lashes on the lash line. Not only placement, but also comfort, might be compromised for our older beauties. 
Individual lashes have a small bulb that holds the hairs together and makes it extremely comfortable for all day wear. You can easily place them wherever is needed since you don't have a full band that needs to be placed on the eyelid. 
Brides
One of the most important days in your life requires lashes! 
A zillion pictures will be taken on this day and trust us, lashes will make your eyes look phenomenal. Even if you have never worn lashes in your life, we HIGHLY recommend wearing Individuals for your big day. (Glamazons, skip ahead and choose your strip lash of choice.) 
Photographs wash out 20% of makeup that you have on, which means you need 20% MORE makeup even if you are going for a lighter look...lashes included. Try them on before your wedding day or if you are getting your makeup professionally done, have the MUA apply them on your makeup trial day. 
Bring photos of lash looks that you like and dislike. This will be very helpful for you and the makeup artist to be on the same page and makes for one less thing to worry about on your wedding to-do list. 
Be the lash designer we know you are, and try our #LePetitIndividualLashes! 
We'd love to hear your feedback! Email us at info@houseoflashes.com and share your experience wearing them :) 
#lashlikeaboss #houseoflashes #lashgamestrong