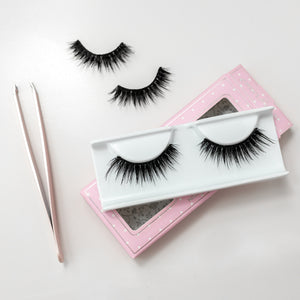 Our passion, our mission, our vision… LASHES! 
House of Lashes is committed to providing you quality lashes at an affordable price while making you feel beautiful and confident. Every lash is specifically designed with you and your unique personality in mind. 
Lashes have changed our lives for the better and we want to share with you all the wonderful things they can offer. If you are new to the world of lashes, we are excited to educate you on this transformative product! If you are a lash connoisseur, we hope you can relate to the reasons we love false lashes as well! 
Once you wear strip lashes for the first time, it's hard to imagine life before them. No really - they are that good! Lashes truly are a game changer and an essential part of your makeup kit! But, before we share our top 5 reasons to wear strip lashes, let us start out by answering the question...
What are Strip Lashes?
Strip lashes are false eyelashes that cover the entire lash line with one pre-styled strip. They are a one-size-fits-all lash that can be cut to fit any eye shape.
Why should you consider wearing Strip Lashes?
Strip lashes are easy to apply, care for, and can be worn up to 15 times when properly cared for (note: this only applies to House of Lashes products). 
And did we mention they can be applied from the comfort of your own home and do not require professional help?!
That's right! Strip lashes are widely used by lash artists, makeup artists, and influencers because of the variety of styles, ease of application, and affordable price points.
Who are Strip Lashes for?
Strip lashes are perfect for beginners that are looking for an easy way to enhance their eyes, new moms that are looking for a quick fix for otherwise tired-looking eyes, every day wearers that are looking to customize their look, brides so your lashes are always camera ready, glamazons looking to try out the latest makeup trends, and everything in-between!
You would be hard-pressed to find someone that couldn't benefit from strip lashes!
And as if those aren't enough reasons to consider them...here are some of our top reasons for wearing strip lashes.
5 Reasons to Wear Strip Lashes
1) Transform Your Look
Any insecurities you have with your eyes can be fixed with lashes. Lashes have the power to enhance your eyes and make them more defined, opened and more elongated. Lashes are the finishing and final touch to your eyes whether you are wearing a little or a lot of makeup. 
For example, Monolid shaped eyes have no eyelid crease and makes the eyes appear smaller because you can't see the eye socket. With the help of strip lashes, you can achieve thick lashes that create the illusion of larger, more pronounced eyes. False lashes create an outline for your eyes giving them your desired shape. 
2) Save Time 
Once you master the art of application, lashes will save you time on your makeup routine. Lashes can elevate your look without a lot of makeup! No need for much eyeshadow or coats and coats of mascara to look pulled together. One step with false lashes is all you need! 
3) Refresh
Strip lashes can help tired eyes look more youthful and awake! You can tell a lot by looking into someone's eyes, so make sure yours are always vibrant and bright. 
4) Always Camera Ready 
Zoom calls, Facetime, selfies and can't forget about the good ole Target checkout camera! Lashes will ensure you are always camera ready. Lashes make your eyes appear bolder and add great definition that the camera normally washes out. Get ready for your close up! 
5) Boost Your Confidence 
When your beauty radiates from within, it's a wonderful feeling. Wanting to match how you feel on the inside with how you look on the outside is only normal. Lashes have the ability to boost your confidence to new heights and make you feel unstoppable. It makes us feel like we are the best versions of ourselves when we have our falsies on! 
And with these 5 reasons, it's no surprise why we love wearing false eyelashes! Who isn't looking for an easy way to show off one of your best features - your eyes?!
Where to Begin Your Journey
We recommend starting with one of the best sellers from our Lite Collection. The lashes found in this collection are known for giving you an effortless look that naturally blends in with your lashes.
We hope that wearing lashes makes you feel beautiful, confident and powerful.
Thank you for choosing to lash your life with us. 
XO, 
House of Lashes