Al Fresco Your Way- Discover the most sought after wedding theme!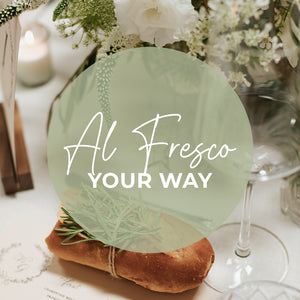 Al Fresco themed weddings are taking the bridal industry by storm. The rise in popularity is easily attributed to its romantic mix of rustic yet coastal, family style yet intimate, and the openness that reminds us of golden Californian sunsets or the countryside of Italy. It's all very dream like which is why this theme is at the top of every brides list. 
There is a 'natural' element that comes with an Al Fresco theme which adds a bit of uniqueness to the details that go into making every corner truly special. There is also an aesthetic of being 'undone' or 'tousled' which makes for incredible texture and realness to the day. 
Twine rope, mini baguettes, and real greenery to create epic table scapes. Chic and simple details that make the biggest impact on your day is what you will get with this trending wedding theme. 
Here are some Key Words that can be helpful to use during your planning process: 
Rustic 
Airy 
Romantic 
Organic 
Striking  
Key Colors to be used throughout: 
White   
Brown 
Green  
Grey 
Getting warmer?  We hope you find relief and inspo here to help you decide the next steps in your wedding planning. 
An Al Fresco themed wedding can bring your loved ones together in the most magical way to celebrate your happily ever after.