Lash Application Best Practices for Best Results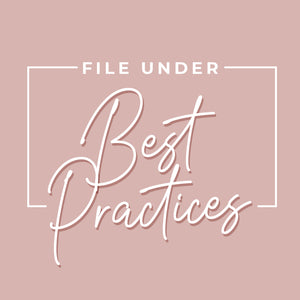 Not all things are as simple as they seem… There are little hacks to help make processes just a tad easier, and ultimately more enjoyable in the long run. 

When it comes to lashes, we have a few "Best Practices" that we wish we knew when we were first starting out. 

So, if you are just beginning your lash journey, you'll want to keep reading! And even if you've been wearing lashes your whole life, you never know, you just might pick up something new today :) 
Let the Glue Get Tacky 
If you remember anything from this blog, remember this!! Let the lash glue get tacky on the band before you apply it to your eyelid. 

After you brush on a layer of glue to the lash band, you'll want to wait around a minute before applying. This helps the glue adhere to your skin and makes placement more precise. If you apply it before the glue is tacky, the lash band will slip and slide making a mess of your eyeliner and eyeshadow. 
Prep Your Eyelid Before Using Lash and Dash Glue Eyeliner 
Our lash glue eyeliner was designed for fast, on-the-go application that lasts up to 4-6 hours. For the best staying power results, we recommend preparing your eyes with powder. 

If you are already wearing eyeshadow for your look, that will work perfectly. If you are not wearing any eye shadow, a translucent powder will work just fine! The purpose of this is to absorb any oil that's present so the glue liner can apply on a dry surface. This will ensure a longer-lasting hold free of inner or outer corner lifting throughout the day! 
Trim Your Lashes 
Every eye shape is different - thank goodness! Our unique features are what bring so much beauty to the world! Therefore the standard lash lash length will not fit the same on every one.  

We pride ourselves in making lashes that flatter all eye shapes, but first you must fit the lash band to your eye size. Measure your lash length and trim any length that extends past the outer corner of your eye for a customized lash fit! 
Don't Throw Away What You Trim 
Okay, so if you made it this far, you just read about trimming your lash band. Whatever piece you cut off can be used as an accent lash and applied at the outer corner of your eyes for extra fullness or flare. 

Half lashes and cluster lashes are all the rage right now, so this makes for a perfect diy! We love a queen who upcycles her resources! 
Dry Brush Before You Clean
With a clean spoolie, brush through a pair of lashes that you plan to clean before cleaning with any liquids. This will be easier to flake away any debris, mascara, and even dried up glue. The liquids can definitely deep clean once you get the initial buildup of gunk off the lashes. 

Also, try not to rub the fibers together too much when cleaning them, otherwise the hairs might fall out.
Quality Doesn't Mean Invincible 
Our lashes are made with the finest quality care and materials in the biz, but that still means you need to handle them with care. 

When removing from the tray, cleaning, removing them from your eyes, or storing them, it's important to be gentle. The size alone makes them a more delicate product that needs light pressure and attention. 
We hope one of these tips come in handy the next time you wear lashes! 

xoxo