Looks We Love from Euphoria Season 2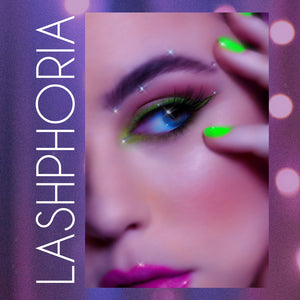 Enter Lashphoria with us! 
The groundbreaking show Euphoria on HBO max is back for your viewing pleasure on Sunday nights. 
Although Season 2 is quite heavy, one thing we can all agree on is that the makeup looks are *chefs kiss *. The rhinestones, loud colors, and double liner looks are just as good as we remembered and more. 
This series took the beauty industry by storm, and it's safe to say, rhinestones will always have a seat at the table. 
We'll show you how to get your Euphoria fix even after the season ends! 
Big Hair, Bigger Lashes
We love the sideswept motion of this look. Big bangs, tousled curls and big innocent doe eyes to finish it off. 
Get the look by using: Iconic Lite  
The corners of the lash are extra elongated to create a wispy, airy effect. Perfect for that Oklahoma vibe, IYKYK. 
Return of the Rhinies 
Thanks to the series' MUA: @donni.davy , we learned the cool girl term for rhinestones = RHINIES. And whatever she says goes! 
The beautiful symbolism of the rhinestones, err we mean rhinies, is used in so many different exquisite ways. To show sadness, celebration, transformation, it's all so meaningful. 
If you are adding your own version with pops of sparkle, try using our Lash and Dash Adhesive Eyeliner in Crystal Clear. No mess and no wait time - it will be the easiest part of the process! 
Get the look: Wearing Hazel Mini 
A Moment for This Wing, Please
Maddy's signature look from season 1 was a bold and PERFECT winged liner. In season 2, we loved that it still remains, but with an upgrade of a double wing. In some episodes it's more prominent than others, but it's always there! 
In the example shown above, the double wing is started from her lower lash line and brought up to meet the bigger wing slightly below. The double wings add more drama and intensity to the eyes which give the characters the extra wow on camera. 
Get the look with: Lash and Dash Adhesive Eyeliner in Satin Black + Midnight Luxe Lashes
Bright Colors
Kat is an Icon through and through. Although we don't know if we can pull off the colors she wears, her confidence sure has us believing we can try! 
Get the Look: Wearing Siren Flare 
MUAs and images from:
@donni.davy
,
@alexandraafrench
,
@tlangmakeup