Re-Imagining the Customer Experience with a Fresh, New Website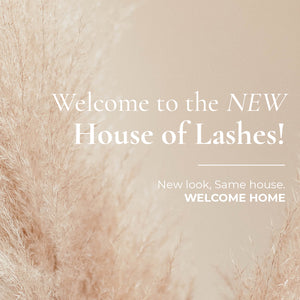 Welcome to the NEW House of Lashes dot com. 

We have made your shopping experience as seamless and easy as ever with our redesigned website experience. 

And did we mention we have some really exciting new features that will make you fall in love with lashes...more than you already are?!

It's important to feel confident in the lashes you wear, and deciding what to purchase can be overwhelming while browsing the site. But, with our fresh updates, our goal is to make your lash decisions fun, educational, and empowering! 

We hope these new changes inspire you to lash outside the box and also inspire you in other areas of your life! 

Here's what's new... 
Eye Shape Guide 
First and foremost, discovering your eye shape is one of the most beneficial steps you can take while starting your lash journey. It's like discovering your clothing size, but for your eyes! 

When you know what looks and works best for you, the rest comes easy. And that's really when the fun begins as you can explore lashes feeling confident. 
Lash Quiz 
Lashes are a reflection of YOU. Your style, your life, and preference all play a part when deciding the best style for you. With our new Lash Quiz we ask the right questions to help narrow your choices down for you. 

With over 40+ styles, it's easy to get lost in the sea of lashes… But, not to worry, we'll help guide you to styles curated just for you!
Look Book 
Since you're reading this, you already know the good news - our blog section got a makeover! 

This is where you'll need to be to discover all things about Lash Education, Community, our Eco Conscious Efforts, and HOL news! We post new articles weekly, so be sure you check in often. 
Product Pages 
Our product pages are more informative than ever! 

Discover all the key features of each specific lash, who it's for, and what occasions lash best with the style. You'll also have lash education at your fingertips with how to clean and how to apply videos directly on the page. 

Grab a snack and get comfy - there's a lot to see here! 
About Us 
Get to know who HOL really is, what we believe, and why our mission goes far beyond just lashes... 

A company founded upon a dream that has grown to become a mind-blowing reality for our amazing founder! 
More Exciting News!
House of Lashes will be celebrating our 9th birthday very soon and this new website is part of that celebration! As you browse through the website, we hope you truly feel who we are and what we represent as a brand, while gaining an even better understanding of our mission and core values. 

Change is a beautiful thing and we are so excited to finally unveil this project we've been working so hard on! 

Our evolution and growth is a reflection of our loyal HOL fam. We've learned so much from you all, and have been honored to lash life with you for the past 9 years. 

So without any further ado, enjoy the new site! ...We can't wait to hear what you think. 

Make yourself at home and explore the world of lashes!