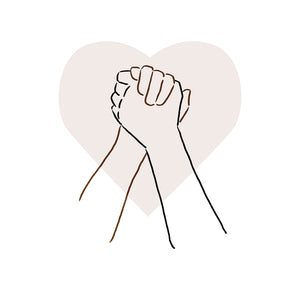 Our hearts are aching for those suffering in our community, and we want you to know, we stand with you in the fight against racism. As a company that is built on diversity and celebrating the differences of others, this situation affects us deeply.
As a first step, we have donated to Black Lives Matter, and we are actively seeking ways we can continue to educate and commit ourselves to long term change. We have always believed in giving back to our community and stand for causes that help elevate the integrity of mankind.
We are listening, we are learning, and we are open to your ideas and feedback. We are stronger together.
We hope our community will join us during this time and help support in any way possible. Both big and small steps matter and make all the difference. 
Where to Donate: 
People's City Council of Freedom Fund
Alliance of Californians for Community Empowerment
Influencers to Follow on Social Media: 
@snitchery
https://www.instagram.com/p/B9nBEnfHIaO/ 
@kameronlester
https://www.instagram.com/kameronlester/
@alissa.ashley
https://www.instagram.com/p/BuHc740nWzu/  
@ellarie
https://www.instagram.com/p/B_i2vS-A4bU/
@strashme
https://www.instagram.com/p/CAtCUY3lnRL/ 
@vicmram
https://www.instagram.com/p/CAs9TFWDj-j/
@safai305
https://www.instagram.com/p/B8zltdRpV6O/ 
@ohh_maly
https://www.instagram.com/p/B_GksotA2aR/
@theplasticboy
https://www.instagram.com/theplasticboy/
Businesses to Shop: 
Beauty Bakerie 
https://www.beautybakerie.com/
Briogeo Hair 
Juvia's Place 
Mented Cosmetics 
https://www.mentedcosmetics.com/ 
The Honey Pot 
The Mane Choice 
Watch on Netflix: 
-Explained: The Racial Wealth Gap 
-Time: The Kalief Browder Story 
-When They See Us 
-13th 
-Who Killed Malcom X ?
We Stand in Solidarity

We stand in solidarity with our black brothers and sisters against racism and we refuse to be silent in the face of injustice. ⁠
We promise to  listen & learn and understand how to move forward, committed to leading long-term change within ourselves and as a community.⁠
Please continue to share helpful resources so we can be of more support - your input is greatly valued.⁠
Feel free to contact us on our instagram @houseoflashes, or email us at info@houseoflashes.com (Monday - Friday from 9:30am to 5:00pm Pacific Standard Time).
We stand with you,
House of Lashes