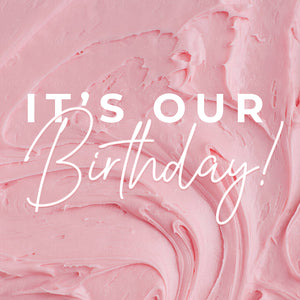 There's a special occasion that only occurs once a year and it's happening in September…
Can you guess what it is?
It's our birthday!! And this year we are celebrating 8 magical years of being leaders in the false eyelash industry. 
Bringing innovation, quality, empowerment and cruelty free products to our customers has always been our mission and we plan to continue on that path for the next 8 years and beyond! 
How Well Do You Know House of Lashes?
Before we tell you how much we appreciate each and every one of you, we thought it would be fun to see just how much you know about HOL!
Did You Know… 
-Noir Fairy was our very first style 
-HOL made its first retail debut in Sephora 
-H&M was our first international retailer 
-LaLa Vasquez was the first celebrity to ever wear HOL 
-Our first cover placement was on Cosmopolitan Mexico, worn by the beautiful Eva Longoria 
-House of Lashes has been worn to the Met Gala by Kate Bosworth, Ezra Miller and Cardi B to name a few
-Our lash adhesive was voted Allure Best of Beauty in 2018 
-House of Lashes is female owned and majority operated 
Our Story
House of Lashes was created to inspire and empower people regardless of age, race or gender to feel beautiful with lashes that not only complement their diverse eye shapes, but their unique personalities, too. 
Our founder and CEO had been a long time lover of lashes and was disappointed with the industry's selection of lashes on top of the huge price difference between drugstore and department store lashes. 
After 5 years of extensive market research, House of Lashes was born. 
We began our journey with 10 signature styles featuring false lashes fit for all eye shapes that included the first-ever multi-layered 3-in-1 lash. Since then, we have created more than 30 lash styles and accessories that range from natural to glamorous, all while holding up the promise of complimenting any eye shape and makeup style you desire!
HOL Gives Back
As a beauty company, we are continuously working to make sure our hearts are as gorgeous as our lashes!  
We love supporting organizations both big and small that help educate, raise awareness and develop research with a good cause. 
We strongly stand with organizations that help better mankind and our planet. 
Here are some of the organizations we continue to support: 
-Keep a Breast
-Kiss the Ground
-Alopecia.org
-Dress for Success
-Wheels of Happiness
-Teen Leadership
-No Kill LA
-Girls Not Brides 
We Couldn't Have Done It Without You
To all of our amazing IG influencers that have supported us over the years - thank you!
For those of you that have been with us for a few years, you're probably familiar with some of these beauties that have shared their experiences and makeup looks with us over the years.
With too many incredible individuals to name - you know who you are - all we can say is thank you. Your support has meant the world to us over these last 8 years.
It was always our dream to collaborate and work with so many talented individuals, but we never could have imagined the last 8 years playing out like they have. 
You continue to wow us with your creative excellence and can't wait to see what you come up with next! Keep shining!
To Our HOL Fam - You Da Real MVP
It's been an unforgettable 8 years with our empowering, lash-loving community. And we could not have made it this far without each and every one of you. 
From the bottom of our hearts, THANK YOU! 
We are inspired by your stories, your lives, and your eagerness to show up for life as your most confident self. 
We want to be with you for your job interviews, your first dates, your wedding day, your baby shower, and all of life's moments, both big and small! 
We know we've succeeded in our mission when we hear your incredible stories about a time House of Lashes was with you to share in a moment when you felt confident and beautiful.
And Now...It's Time to Celebrate 
Join us for a week of fun as we celebrate our birthday! 
Be the first to know what deals are in store: 
Monday, September 7th: Buy any HOLXPT lash, get a $5 discount code
Tuesday, September 8th: 20% off + Free heavenly face mask *one per household w/ $35 min order 
Wednesday, September 9th: 20% off + FREE storm face mask  *one per household w/ $35 min order 
Thursday, September 10th: Email and social giveaway 
Friday, September 11th: Sephora Holiday Set Launch 
Sunday, September 13th: Free lash comb with every purchase 
Each passing year is a beautiful reminder of just how far we've come, how much we've grown, and how much excitement is still to come with House of Lashes! 
Thank you for lashing with us for 8 incredible years! Xo 
With love and lashes, 
HOL