Lash Everyday of the Week with Patrick Ta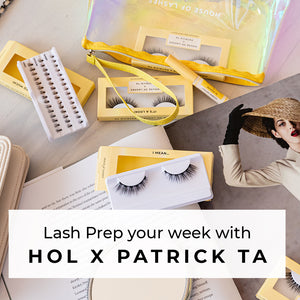 What helps you feel prepared for a new week? 

Maybe it's having a relaxing Sunday with family, or making sure all your errands are run. 

For those going back into the office, having a prepared wardrobe may help you save time and sanity in the morning! 

An important piece of your wardrobe includes LASHES. It's the final step in your makeup routine, and if the decision is already made beforehand, your morning can run a little smoother. 

Monday goals right?? 

We want to take some of the decision making off your plate and make your life just a little bit easier. That's why we have your weekly lash schedule booked on the calendar for you! 

Let's review what your week looks like...
Your Weekly Lash Calendar 
Monday 
She's a Natural 
It's back to the grind with lots of planning and scheduling today. 


She's a natural is a great work lash to set the tone of the week with professionalism. It's a subtle lash that doesn't draw a lot of attention, but it does just enough to make you feel put together and refreshed from the weekend. Light and naturally flared. 
Tuesday
I Mean... 
Back-to-back meetings mean you need to be on your A game. 


I Mean... is a flared style to elongate your eyes, while also adding definition. So whether your meetings are in person or on zoom, you'll leave a lasting impression on all! 
Wednesday
She Doesn't Need Much 
You have a networking lunch event and want to look and feel like yourself…


Opt for our individual lashes - She Doesn't Need Much. These lashes allow you to customize your lash look exactly to your liking. Add a little or add a lot right where you need it! 
Thursday
It's a Look 
A jam-packed day starting with meeting vendors, dropping off dry cleaning at lunch, more work, then meeting the in-laws for an early dinner. 


Tired? Yes, but who needs to know? 


It's a Look will perk your eyes up with its upward cat eye effect. 
Friday 
It's an AfterParty 
It's Friday and need we say more? 


It's been a productive week at work and you are looking forward to dinner and drinks with some friends for happy hour! It's an Afterparty is long, fluffy, and the most dramatic in the collection. 


Save the volume for your Friday fun! 


And don't forget our trusted glue! 


Waterproof, sweatproof and windproof so your lashes stay put all day and night. 


HOL® X PT CLEAR Lash Adhesive
Also, as a heads up, our HOLxPatrickTa collab is coming to a close this year... 


Stock up on your favorite styles and wave goodbye to the collab of the year!