Summer Must-Haves: Siren Spotlight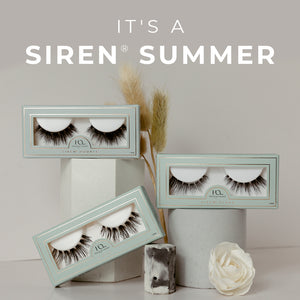 Without a doubt, there's no question that our lash of the summer will 100% be Siren! It's light, it's wispy, and it's unstructured in the best way possible for that no lash, lash look. 

In fact, people might mistake them for being your natural lashes...that's how good they look! 
Top 3 Reasons We Looove Siren for Summer 
Clear, comfortable band
Wispy style for a soft look
A summer lash must-have
Siren was such a hit when we launched it that we decided we needed to expand the collection! ...So we designed two more styles to cater to every lifestyle and preference. Because Siren is just that good. 

To help you figure out which style is best for you, allow us to explain the key differences and recommended occasions for each amazing style! 
Siren
The original lash style that went viral amongst the influencer community, this wispy, rounded, piecey lash sections allow your makeup to really shine through! 
Who it's for: 
Our original Siren is one of those styles that will always be fashionable. 

This lash is perfect for the individual who loves timeless pieces in fashion, makeup, trends, and music! It's a style that will carry you through every phase of the ever-changing world of trends and always remain fabulous. 
________________________________
Siren Flare
Our original lash style but with a flare! This lash features the same wispy style that grew a fan base, now with a wing at the end. 

Create the appearance of more elongated eyes and achieve the perfect cat eye in an instant! The winged out ends will give you the dreamiest mermaid eyes that sparkle like sunshine on the sea.
Who's it for: 
This lash brings the spice factor! It's an understated style that isn't outwardly loud, but always receives deserved attention when you wear it. 

It's a confident lash that doesn't need to be loud or flashy to show how gorgeous it is - it simply shines all on it's very own! 
____________________________________
Siren Double
Double the goodness of Siren. These two Siren lashes stacked together created a brand new style! 

This style is the densest in the collection and most dramatic by far. It still gives you that wispy, flirty look, but with an extra layer of drama. Fluttery to the max!   
Who's it for: 
Siren Double makes the eyes appear more defined and intense. The drama of the fibers are perfect for evening events and ensure you're always camera ready… You'll even be seen with a flash! 

This lash will take you to the next level, similar to your motto in life - always trying to elevate yourself! 


____________________________________
Our Siren Collection captures the essence of Summer. The light glimmering on the water shines through just like the sparkle this lash will give your eyes. 

Lightweight, fresh and airy to withstand the heat and activities of the summer months. Everyone loves Siren just as much as we love Summer. 

Enjoy summer wearing your favorite lashes!